Charlotte Watt recently completed a secondment to the Nuclear AMRC as part of the nucleargraduates programme, sponsored by Rolls-Royce. We asked her about her experiences so far.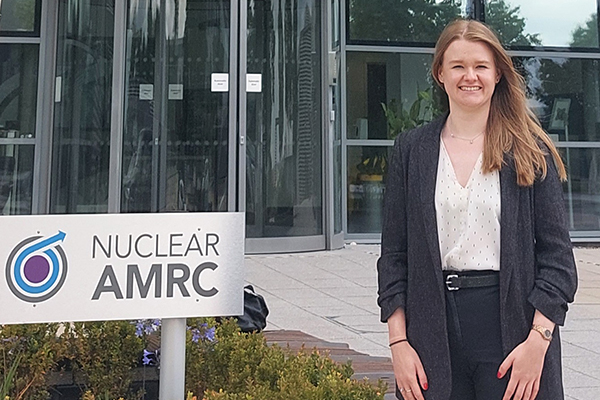 I applied for the nucleargraduates programme after finishing my MEng degree in Chemical Engineering at the University of Strathclyde. I wanted to work in the nuclear industry as it provides opportunities to work with novel and innovative technologies, and I was looking forward to completing multiple placements, in different companies, across the industry and gaining varied experience.
The programme offers the opportunity to complete secondments across many companies in the nuclear industry within the UK and worldwide, core training on both technical and behavioural elements, and a continuing professional development budget. There's also a corporate social responsibility programme called Footprints, where 10 per cent of your time is dedicated to activities such as being a STEM ambassador, starting up a company working with community projects, or international visits to further expand knowledge on the nuclear industry.
I started in November 2020, and I am nearing the end of my time on the programme. I have gained a fantastic breadth of experience as a systems engineer and innovation engineer at Rolls-Royce, a technical advisor for the advanced modular reactor programme at BEIS, and most recently as a research engineer at the Nuclear AMRC. I am now moving onto my final placement at Rolls-Royce SMR, working as a systems design engineer.
I have gained valuable experience working at the Nuclear AMRC. I have worked in a large project team on technical challenges, and developed essential skills including problem-solving, teamwork and communication.
I have learned more about innovative, cutting-edge manufacturing technologies and learned key research skills as an engineer.  Before joining the Nuclear AMRC, I had little experience and knowledge of manufacturing technologies and equipment such as machining, welding, and metrology. I have also had many opportunities to join training and conferences to support my learning and development, such as the High Value Manufacturing Catapult Roadshow and an NSAN course on small modular reactors.
I am now looking forward to attending the Footprints trip to Canada, learning more about the Canadian nuclear industry, and attending the SafeG project summer school on gas-cooled fast reactors in Prague.
I would like to extend a huge thank you to my team and everyone at Nuclear AMRC for welcoming me and being so supportive over my secondment – I am really grateful for your time and support!